Rue V. Dickey
Rue (they/he) is a Roma-Indigenous-Welsh nonbinary disabled creative based out of Oregon, US.Rue organized the TTRPGs for Trans Rights in Texas bundle, raising over $400,000 for charity. They are a 2022 Ennie Fan Award for Best Publisher and Diana Jones Emerging Designer Award Nominee and Hugo Nominated Event Organizer.He is proud to be a recipient of the Gen Con Participation Grant, as well as the Story Synth & Big Bad Con Game Design Microgrant.Rue is available for game writing and design, cultural and sensitivity consultation, voice acting, and Actual Play opportunities.
Game Design and Writing
Rue works as both an independent and freelance game designer, writer, and publisher. You can find their independent work on their itch.io profile.He has worked as a freelance writer for Project NERVES, Gnome Made Games, Action Fiction, Hit Point Press, Start.Playing Games, Inspirisles, and more.Currently, Rue is accepting collaboration pitches to write for TTRPGs, Board Games, LARPs, Video Games, and Essays. Inquire via email or DM.
Sensitivity and Cultural Consultation
Rue is an established cultural consultant and sensitivity reader. They are comfortable and versed in doing cultural consultation for:
Indigenous Identity, Diaspora, and Culture

Jewish Religion and Culture

Romani Diaspora, Culture, and Cultural Analogs

Fortune tellers, Travellers, Nomadic Cultures, etc.

Trans identity, transness, trans culture

Nonbinary identity

Queer identity and queer culture

Disability & Accessibility

Wheelchair / cane / mobility aid usage

Hearing loss and Hard of Hearing identity

Autism, ADHD, and Neurodivergence

Seizure disorders

Chronic illness

Mental health & mental illness

Content Warnings & Safety

Microbiology, Disease, Epidemiology, Pathology
Actual Play
Rue has extensive experience as a GM and player for a variety of TTRPGs. They are the project lead for the Dungeons & Dragons program at their local community center, as well as performing on a variety of Actual Plays. Rue has GM'd games for: HuetopiaTV, Heroes Without Limits, Friends Who Roll Dice, and more. Rue has been a featured performer on: TransplanarRPG, Jasper's Game Week - Dungeons & Dragons, Nerds With Dice, ChromaticChimera, and more.Rue is currently open to casting on Actual Play streams, podcasts, and events - for one shots or ongoing campaigns.Direct casting inquiries via email or DM.
Community & Outreach
Rue has a degree in communications and is passionate about doing community work and outreach.
They are on the Hugo Award Nominated Admin Team for FIYAHCon, as a Community Team & Office Hours Admin.
Rue is also a community admin for Heroes Without Limits- a disabled/chronically ill/neurodivergent gaming community. He has experience doing social media management for Tabletale Games and content management for Bronze Girl Gaming, as well as part of their day job at Corvallis Parks & Recreation.Rue is actively seeking employment as a community manager, social media manager, or marketing associate in the gaming space.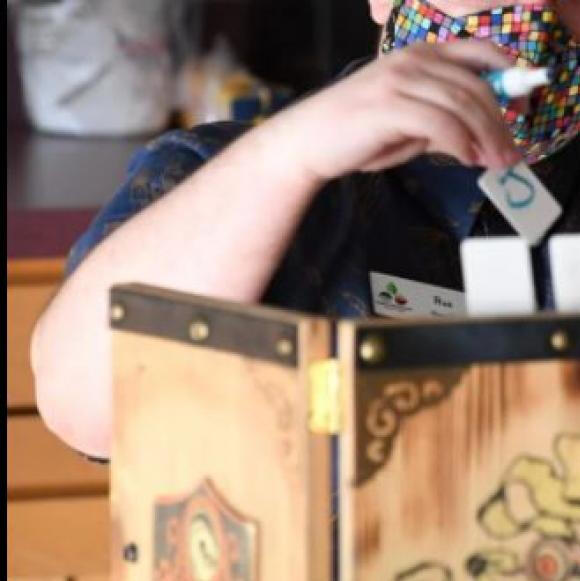 Voice Work
Rue is a voice actor working on podcasts, audio dramas, video games, and voice over. They have worked on a variety of audio dramas, including Under the Electric Stars, ValencePod, Someone Dies in this Elevator, and more. His reel is posted hereIf you are interested in casting or auditioning Rue for a project please email or DM.